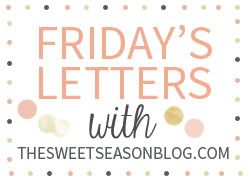 Dear Friday, You feel like Saturday.. which doesn't make sense because I didn't have school this morning.. but, still I'm convinced it's Saturday.
Dear LBZ, I really hope that you kept your germs to yourself. I don't have time to deal with strep throat. I'll be spending the day cleaning up your germs and studying and I hope you get more than enough sleep! I love you!.. But, I can't promise I won't be a little upset if I get strep throat.
Dear Ombre Hair, I dislike you even more now that everyone keeps complimenting me on my "ombre hair"... it's not ombre. Which is totally funny.
Dear Finals, Play nice.


Dear Karma, I enjoy thinking that one day you'll do your job.. however I wish you could hurry up.
Dear Life, Sometimes I think push me to my limits just to teach me some kind of lesson or make me reason something I'm not clearly seeing. It might actually be working.
Dear Coffee, Get it together... I drink you, you keep me going.
Dear Ebates, I'm so obsessed with you. My next check comes in April and I plan on making it my biggest check ever. My biggest check yet was $50.. I'm already at $14.. not including my Sephora order. All together I've been paid $152.39 since signing up. Just for shopping online. So fab.
Dear Snapchat, Sometimes I really enjoy you. For example when people send me funny snapchats or simply a friend sends me something stupid. I do not like you when some creep sends me a disgusting picture. Word to the wise.. don't Instagram a photo and tell people to snapchat you, list your username and use hashtag snapchat. Unless you're into creepy dudes who won't leave you alone. If you want to snapchat me my username is MandyShippe.
Dear Abnormal Psychology Class, I'm so sad that you're almost over. I absolutely loved you.. I've learned a lot about people and disorders.. I've also heard plenty of personal stories that make me feel like maybe my like is super normal.
Dear Negativity about ADD/ADHD, I could go on and on for days about this. I'm currently blogging while doing my class discussion online and in the discussion I notice someone talking negatively about ADD/ADHD. I was on Facebook earlier and noticed a status about people who take medication for ADD or ADHD and how they're trapped in their own mind or something really stupid like that. Actually, because this is such a popular topic and everyone has their negative feelings about it.. I'm going to make a post about it tomorrow. I'm ready to watch the followers drop.
Dear DVR, Why is it that you stopped recording all of my shows and now you're recording The Amanda Show?!? You won't even let me stop recording it.
Dear Craft Beer obsession, The people at the party store probably think I'm an alcoholic with the amount of craft beer I buy. I probably have enough to last me 2 months... Oh, 21.