Dear Readers, You are all absolutely amazing. I received so many wonderful e-mails regarding social media and bullying. Thank you all so much for the kind words that really made me realize all the reasons I shouldn't delete my blog. I will continue living my life the way I want. Thank you all, so so so much!
Dear Bracelets,


Tomorrow I will be selling you at my mom's salon's Holiday party!!!
Dear Holiday Party, I'm so excited for you! I can't wait to sell my bracelets and check out all the the goodies from all the other awesome reps that will be there (Sentsy, Party Light, Pampered Chef, Avon, Tastefully Simple and so many more) My holiday shopping will begin early!
Dear Cyber Monday, In just a little over a week we will meet again! Oh, I'm so excited. Last year I saved so much money AND earn about $100 just by using Ebates.
Dear Lucas Blaze, Okay.. I was going to show everyone 3 different examples of things you do just to annoy me but I'm saving it for another time. All I will say this time is that seriously, lettuce does NOT have flavor. How is it that you can eat anything but, if your food touched lettuce you'll spend 20 minutes picking it off….

Dear Readers, Hello again… I just want to let you know that this week is going to be pretty big. I'm not kidding. Even this weekend will be pretty exciting around Pretty Little Endeavors. TWO exciting giveaways and much, much more!
Dear Center Alignment, WHAT'S UP?! Big shot bloggers would be horrified if they saw my center aligned posts. But, good news for me.. Big shot bloggers don't read my blog is the first place. BAM.
Dear Bank Account, You will be VERY happy this coming week. Lots of money will be placed.. in you.. Until Cyber Monday. Sorry.
Dear V8 Spicy Hot, I'm absolutely obsessed with you. LA LA LOVE. Lucas wouldn't let me buy you the other night when I was craving you because I hate tomatoes.. So, when my mom bought you for me so I could try.. I was pretty shocked at how fast I feel in love. Now my weird tomato juice craving is fixed!
Dear Google Medical School, Thank you for your help in diagnosing my tomato craving (even though I hate tomatoes)… means I have a deficiency.
Dear Work, Please don't stress me out like last week!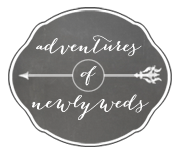 (I didn't have time to get the friday's letter button. But, that button will work!)