Have you heard about this girl?

She posted that twitter status and went missing. At first it was believed that she was kidnapped.. But, that's not the case at all. She tweeted that right before she was picked up by a cab that she called and taken to the train station. She's still missing. And, don't get me wrong.. it's sad that she's missing. However, it's absolutely insane that someone wanted so much attention that they had to pretend they were in danger so that the police could waste their time sorting out her lies. If you look at her twitter.. it's awful. I don't mean to talk trash about a girl who is missing. I know there are plenty of people doing just that. She says some things that are just over the top. I pray that she goes back home to her family. I honestly hope that she's safe. I also hope she faces consequences for her little publicity stunt. On the bright side, for her, she gained like 9,000 twitter followers. Congratulations.
Did you hear about Jason Aldean?


Oh, wait.. that's not his wife. Good job Jason. You're disgusting. Your wife, your high school sweetheart, needs to leave your drunk hot mess self. She can do way better than someone who can embarrass her this way.
Let's look at the sexiest country man there is.. Tim McGraw…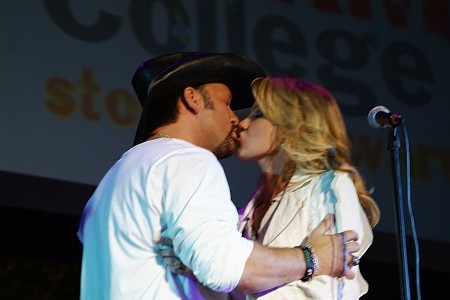 See that? That's his wife. October 6th is their wedding anniversary.. 16 years. Look how absolutely in love he is with her. If you ever see an interview with him.. he tears up talking about her. Since the day they got married the vowed never to spend three consecutive days apart. That makes him sexier. A faithful man. A man who is blown away by his wife. Even after 16 years.
This show.


If you have never seen this show, good! Keep it that way! Honestly. This show is a drug it's self. I told Lucas that I wanted to start watching it, he agreed. Then one night when I was sleeping he watched the first episode. I was so mad. So one night when he was sleeping on the couch instead of watching television with me.. I decided I was going to watch the first AND the second episode. I was so excited that I was going to out do him in watching this show.. Yeah, I sound like a 9 year old.. but, we don't have anything else to get mad at each other over so t.v shows it is. Okay, anyways. I finish the second one and I'm craving the next one. I stayed up until 3am watching Breaking Bad. THEN the next day Luke slept all day because he had to work that night. Do you know what I did? I watched Breaking Bad ALL DAY. ALL DAY. Until Real Housewives came on. This show has ruined my life. I need an intervention… or to just finish all the episodes..
Ah. Now, I'm going to force myself to get off Pinterest.. and go watch Breaking Bad to bed.
Have a fab Tuesday everyone. Thanks for letting me rant.. if any of you actually read this long rant.