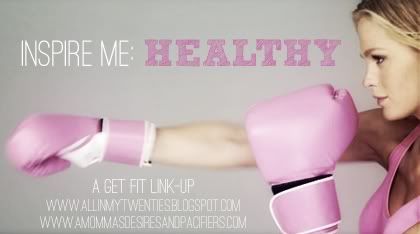 First off, did you happen to meet Katie?
Her goal was to lose 80 pounds!
She's already lost 25!! Way to go girl!!!
I recommend you follow her! She's absolutely amazing!


I had a weekend full of everything someone should not consume if they want to be healthy.
I feel awful about it. But, I had fun. So.. I just have to make up for it.
I love to snack! I pretty much eat all day long. But, not really meals.
It seems to work for me.. especially because I try and keep my snacks somewhat healthy.
Snacks I Dig
-Pickles
-Veggies with light vegetable dip
-Salads; with blue cheese crumbles, cranberries, mushrooms and low fat raspberry vinaigrette
-Laughing Cow cheese on whole wheat crackers
-Salsa
-Guacamole
-100 calorie packs
-Grapefruits

Pinterest has given me so many ideas for food. I can't wait to start making some!
Check out my food board..
some aren't healthy.. but a lot are!!!

I would really like to start working out more.


It is my goal to be able to brag next week about how I stuck to my plan of working out.
I hope you guys are all doing better than I am!!
I'm sure Katie is!!