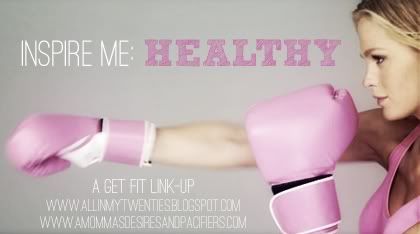 It's a good thing I had such awesome feedback last week for this link-up.
That obviously gave me so much motivation to eat healthy and work out.
… Oh wait. It should of.
But, of course I kind of suck.
Today is Thursday.
Today I will force myself to get my workout on.
Because "tomorrow" doesn't really ever happen.
I'm a full time slacker. An excellent full time slacker.
Actually, to be totally honest.. I've been exhausted lately. No matter how much sleep I get I can't seem to wake up. I think I'm possibly getting sick or something. I've been trying to rest when I have free time. I'd rather not strain myself if my body isn't feeling 100%
I have been going to the driving range a LOT.

Tomorrow will be my third day this week. I'm freakin' sore.
Sunday I'm playing in my work's golf outing..
My first outing ever. My first time playing golf ever.
I never realized golf was such a workout. Goodness.
Don't judge me.
So if any of you are feeling.. rather.. unmotivated.
Let's get motivated together. Now!
I love this one the most! I think the most important things to getting fit and healthy is to be happy with yourself first! The body you have now.. is the body you have now. If you're not the weight you want to be, there's no reason to be so hard on yourself. It won't change your appearance. If you make getting healthy and fit into a chore.. then it's going to be so hard to get to your goal. Be happy with what you have. You're on the road to being even happier.
I took these all from my pinterest "Get Fit" board.
As far as my total weight loss since I started Myfitnesspal