My favorite thing to wear… is a v-neck.
I feel like it's super simple to pair almost anything to make my outfit pop.
Obviously, I wouldn't ware all this together.. I was simply showing that you can dress it up.. or go sassy!
Plus, I have that Juicy necklace thanks to my loving boyfriend and I love wearing it with a v-neck!
I've never participated in Friday's Fancies.. so I hope I'm doing it right…
Anyways.. how do you wear your t-shirts?!?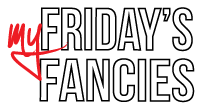 Now, I'm not sure if Ashley is going to do the link-up since she's enjoying vacation..
But, I still want to do my letters.. so link-up or not.. here we go!
Dear Stupid Shows I Watch, We go from Cops to Barter Kings.. Wedding shows, to Hoarders.. To Law & Order SVU… to Kardashian bull$h!t, to a stupid dating show, to America's Funniest Home Videos, to shows about girls younger than me getting knocked up.. to Toddlers wearing more makeup that I wear. To… frickin' anything really weird that can keep me semi entertained for 20 minutes. I really don't watch much television.. but when I do.. it's never the same.
Dear Thai Food, You were oh so fab Wednesday! So glad boyfriend took me to you! Spicy food might make me sweat (not really.. but, I'm a baby).. I enjoy the heat. Yummy! I need to consume you more often!
Dear Lucas Blaze, I'm sorry that I get so grumpy when I'm hungry. You called me a hungry bear.. and I have to agree. Thanks for rushing to feed me whenever I start to get a little extra sassy..
Dear Any Readers That Read My Last Post, Thank you! I hope you all understand how frustrating it is to feel like I'm failing at so much, all at once. I really want to have better blog posts. I want my life to just flow semi-normally.
Dear Mood, Please.. cheer up. Please. It makes it hard to be cheery when you're everything but that. Sometimes it's hard to explain everything going on in my life.. so I have to just smile and keep going.. Make it easier on me. Thanks.
Dear Life, You don't have to be so hard on me right now. Just saying.
Dear Couch, We meet again after one night apart? Crap.